Central Archives is a computerized, State-of-the-Art Records Storage Facility located in Central New Jersey.
From handling your inactive and semi-active paper records, to your highly sensitive data and tape storage needs, Central Archives trained group of professionals can assist you by putting together a custom tailored Record Retention Program to fit your individual needs.
Catering to clients as diverse as Fortune 500 Pharmaceutical, Insurance and Telecommunications companies to the smallest Doctors Offices and Law Firms; no matter how large or small your company is, Central Archives is the right choice for you.
Some of the many services we offer:
24Hour Service, 365 Days a Year
Scheduled Pick-up and Delivery Service
Fully Alarmed Facility (Central Station Monitored)
Bar-Coded Technology for 100 % Accuracy
Full Custom Reporting Capabilities
Destruction and Shredding Services Available
Facsimile Services Available
On-Line / Dial-In Capabilities
WHERE ARE YOU KEEPING YOUR OLD RECORDS THESE DAYS ? AT HOME ? IN YOUR BASEMENT ? IN A MINI-STORAGE WITH LIMITED ACCESS AND SOMETIMES HUNDREDS OF PEOPLE GOING THROUGH IN A SINGLE DAY ? OR PERHAPS THEY ARE IN THE WORST PLACE OF ALL, IN YOUR OFFICE SITTING IN FILING CABINETS TAKING UP VALUABLE OFFICE SPACE.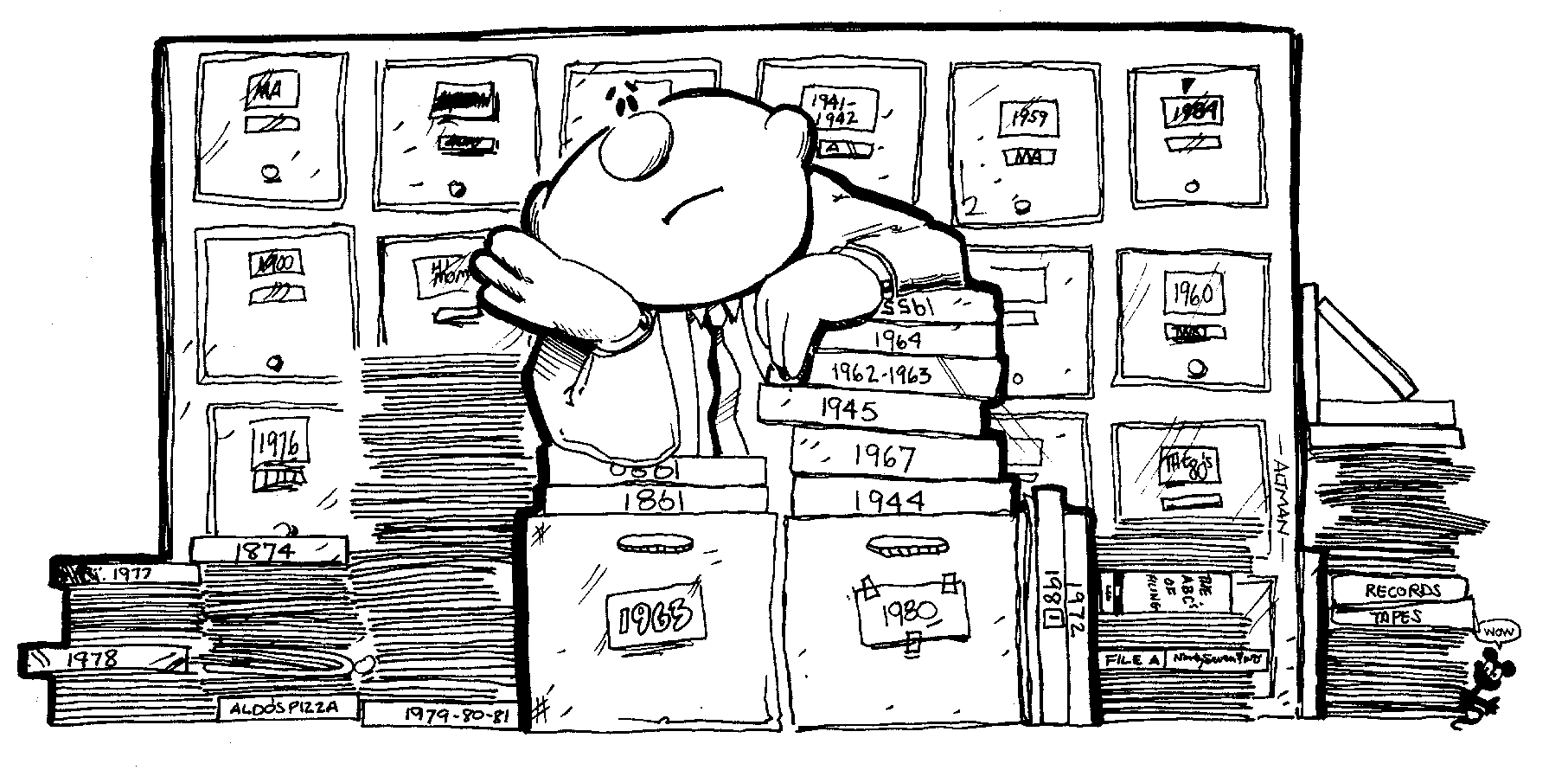 Central Archives trained professionals can find a more cost-effective solution to your paper-record storage needs. By meeting with your team we can determine which records are considered inactive and semi-active. Place your records into our off-site facility, and help regain valuable office space at a cost savings to your company. While your records are secured in a more cost effective warehouse with retrieval capabilities around the clock, you set the level of access to your records. You set the schedules for retention and destruction. Central Archives is just the conduit to meet your business needs. So why not join our present list of satisfied customers and let Central Archives guide your company through the maze of records with a professional plan of action.
HOW WOULD YOU MANAGE YOUR BUSINESS IN THE EVENT OF A DISASTER ?
Our Disaster Recovery Solution for small and medium size businesses called our "Peace of Mind" program.
Ask your self where do you store your daily back-ups for your computer system ? At Home? In your car ? Or do you store your back-ups in your desk right next to the computer?? Why bother backing up your system ? Central Archives is here to offer you "PEACE OF MIND". Our safe, secure, climate controlled delivery vehicles and fully trained personnel will make guaranteed, time sensitive pick-ups & deliveries of your irreplaceable information, on a daily, or weekly basis. Our tape swap program gives you the "PEACE OF MIND" to feel constantly confident that your information is in a safe, secure, off-site facility, capable of being retrieved by just picking up the phone.
NO MATTER WHAT YOUR RECORD OR DATA RETENTION NEEDS ARE, CENTRAL ARCHIVES IS ALWAYS YOUR BEST MOVE.
[ Home ] [ Online Proposal ] [ Archive Division ] [ Awards ] [ History of Central Moving ] [ F.A.Q.'s ] [ Household Goods ] [ International Division ]
Central Moving Systems, Inc.
270 Foothill Road - Bridgewater, NJ 08807
1-800-222-0327
Phone: 732-764-0405
Fax: 732-764-9750
Copyright © 2003by Central Moving Systems, Inc.